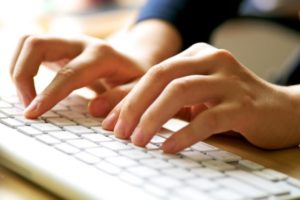 You've just been told you'll need to do a presentation next week. You know the topic for it, who's coming and why. The first step to writing a presentation is to sit down at a your computer and open up Powerpoint, right?
Nope. In fact, that's probably the worst thing you could do. Why?
When you start writing a presentation in PowerPoint, you often end up with enormous slide decks and no clear compelling message. You begin with a mindset of "what all can I show them" rather than "what do they need to understand" or "why should they care?" The result is too many slides that have no connective tissue between them, no story to tell.
What's the better approach?
Opening up Word. Create the content first; the visuals can be designed at the end. As someone once said, "You can't decorate a cake that hasn't been baked."
Start thinking about the profile of the audience. Define some of their basic demographics – titles, experience level, generation, how much they already know, how do they already feel about this, and what "language" do they speak.
What do I mean by language? You can look at it two ways:
1. Do they "speak" quality, speed, efficiency, profitability, low risk, etc. If you can define what motivates them, you should develop content that promotes those features.
2. Is English their first language? If not, be very careful of words and phrases that are confusing to non-native speakers, such as "ballpark figure", "low-hanging fruit", "pick your brain", "jump on the bandwagon," and so on.
Next, decide what you'll need them to understand by the time you're done speaking.
Remember, good presentations boil down to "it's not what you want to say, it's what they need to hear." So when you're all finished, what will they know now, how will they feel about it now, and what will they need to do now?
Then, define the key points that will get them to your finish line. Remember, less is more. A good presentation will be memorable, and it's a lot easier for audiences to remember (and share) 3 dynamic takeaways than the 11-point process. Make sure these key points are strong with compelling takeaways that have a natural build or clear beginning-middle-end.
As you start to flesh out the verbiage, throw in some examples, for-instances, and anecdotes to liven up the data. Remember – facts fade, data gets dumped, stories stick! Also add thoughtful transitions that connect slide to slide and section to section. Ask yourself: Am I connecting the dots for everyone?
The very last step in your development process is to design your visual aids.
Try storyboarding them first—on paper or as a skeleton deck with some rudimentary ideas or sketches. Practice restraint, always asking: What is the least number of visuals or minimum amount of data I need to make my points? Is that bullet, spreadsheet, or chart really necessary? For the slides you do use, enlarge your font size, include only high-level text, and make your data more "glanceable" than "referenceable".
Try this approach the next time you need to develop a presentation. And remember—content should drive the Powerpoint. Powerpoint shouldn't drive the content!
© 2019 Jill Bremer