Here's a quick quiz to test your presentation skills know-how: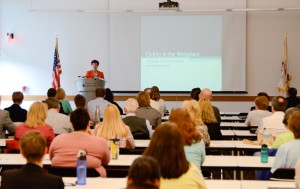 An effective transition is to read the title of each slide as it appears.
A good rate of speech is 140 words per minute.
A speaker should never interrupt someone asking a question.
Laser pointers should be used with slide presentations.
If I want to become a better presenter, I should take a class or find a coach.
Answers can be found by clicking HERE. When you get to that page, scroll to the bottom.