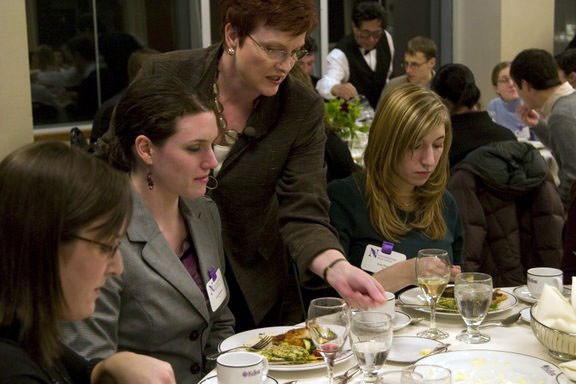 This fun and highly interactive dining etiquette workshop has been presented to corporations, associations, and universities around the country. While participants enjoy a four-course meal, they learn the fundamentals of fine dining and business and social etiquette, skills crucial to success in the business world.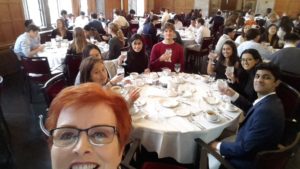 "Serving Up Success" is a perfect fit for annual meetings, leadership development programs, career services offerings, and preparing anyone for client entertaining or job interviews. This hands-on experience provides the opportunity to practice skills as they are taught by a trainer who knows which fork to use! Give your people the confidence they need to make a good impression on others.
"Jill provided a Business Dining Etiquette workshop to a group of over 100 college students. Jill's workshop was interactive, engaging, and informative. She left students equipped to represent themselves confidently over business lunches, interviews over dinner and more as they prepare for their professional pursuits. Leading up to the workshop, Jill was highly communicative, collaborative to tailor her content to our group, and a delight to work with. I'd recommend Jill for all your executive presence and etiquette training needs."
"Jill provided a very professional, engaging, energetic and content-rich seminar
to an audience of catering and event professionals whose business is to know the fine art of dining. After the seminar, every member of the audience walked away with some very valuable knowledge which they couldn't wait to share with their team members and, most of all, with clients. We look forward to requesting the services of Jill Bremer as an annual speaker."
"Every time we host these programs, they sell out within a few weeks and this is no doubt because of the reputation you have built on this campus. 
Your presentations are flawless
and are equally balanced with information and personal stories.  The students are drawn to you and every time you leave our campus, I receive many comments on how important your role is to our university."
"Thank you very much for facilitating your Serving Up Success lunch and networking etiquette session to ensure our scholars have the skills necessary to excel at dining and networking opportunities.
Scholars enjoyed and benefited from your sessions tremendously!"
"Your presentation was, without a doubt, the highlight of the week's events.  Your down-to-earth approach to college students was right on target! 
I could not have scripted a better evening!"