Open-space offices are on the rise. The Pros: they offer a great way for us to communicate and collaborate. The Cons: they bring with them many of the same challenges we had in cubicles—a lack of privacy along with noise and distractions. Here are some ways to survive and thrive in an open environment.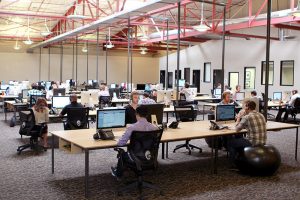 Maintain Your Sanity
Noise-cancelling headphones may be one of the best investments you can make. Whether you play music through them or not, they can give you that oasis of peace in the sea of chaos swirling around you.
For the times you need to focus hard on a task, block out the time on your calendar and set your IM to "busy". Some people block out 2-hour no-interruption time slots each day for focused work time.
Let people know you'd prefer them to schedule a meeting with you any time they have a non-urgent issue, rather than dropping by.
If you find you have the same people interrupting you often, it might be wise to schedule daily meeting times with them or the whole team—to better control the unannounced visits.
Changing your location during the day can boost your productivity and give you the physical and mental refreshment you may need. Try moving to a meeting room, company library, or coffee shop when you need to focus on something important.
Clear the clutter! Visual "noise" can be as annoying as audible noise. You'll be better able to focus, produce, and process in clean and streamlined surroundings.
Play Nice with Others
Just because you can see someone from your desk doesn't mean they're available to talk. Find out first if they're free before stopping by.
Try not to interrupt someone wearing headphones. They've got them on for a reason.
Keep your volume low when talking on the phone, especially if you're the type that needs to do a "walkabout" as you talk.
If you must eat at your desk, be careful of smelly food. Good smells or bad, they all can disturb your neighbors. Cold foods like sandwiches and salads won't bother anyone; hot foods should be eaten elsewhere.
Play music, video clips, and movies only through your headset.
Never read someone's computer screen or comment on conversations you've overheard in the airspace. Resist answering questions you overheard emanating from the desks around you!
© 2016 Jill Bremer