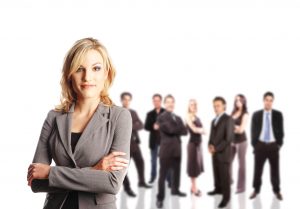 Feeling a little invisible at work? Looking for ways to stand out and distinguish yourself from the crowd? It's difficult to create a strong executive presence if no one knows who you are or what you do. Here are some strategies for building your visibility: 
Daily – 
Nurture your network by making one non-required contact each day. Make a call or send a note.
Weekly – 
For the required meetings you go to, ask what you can bring or how you can help, like taking the meeting minutes.
Find out if there are other meetings you can attend outside of your department. You'll benefit from other perspectives and can build your business acumen and value to the organization.
Monthly – 
Attend events in your industry both large and small. You can reap different rewards from each.
Volunteer for your professional organizations and be more than a good volunteer, be great. Consider volunteering first for the membership committee. You get to know everyone and can serve as the master connector. 
Search out the associations your clients belong to and go to those meetings, too, to stay current on happenings in their industry.
Arrive early to any meeting, if you can. It's a prime opportunity to introduce yourself to the board members and speaker. Volunteer to help them with setting up or with the registration table.
Quarterly – 
Get your name in print. Write for trade publications, op-ed pieces, client newsletters. 
Consider attending an event outside your industry. Be the only one there who does what you do!
Annually – 
Attend at least one conference in your field. Conferences provide valuable relationship-building opportunities and can bring you national and international visibility.
Do a presentation or panel discussion at the conference. Opportunities abound for those who can deliver a solid presentation. 
Additional Ideas – 
Volunteer for a special project or task force.
Chair a committee (and chair it well!)
Develop a diverse network of people, including people from all areas within your organization. Be the person who knows where to go to get answers.
Adapted from "It's Your Move: Dealing Yourself the Best Cards in Life and Work," by Cyndi Maxey and Jill Bremer.